Scaling your business should be easy. The success of today's manufacturers relies on it.
In addition to achieving high-performance goals, application engineers have very specific space confines they must work within to meet business objectives. These can include accommodating additional technology, working around permanent fixtures such as support columns, or even integrating a newer system into an existing system.
Your conveyance platform sets the foundation for your automation process, playing an integral role in process design and determining the overall footprint of your system.
In addition to integrated functionality, a conveyance platform should offer diverse system configurations to meet the unique needs of today's factory automation applications.
SuperTrak CONVEYANCE™ offers various configuration options to meet the footprint requirements of your application.
The SuperTrak CONVEYANCE™ portfolio offers 3 core configuration options, all of which are enabled by the following components: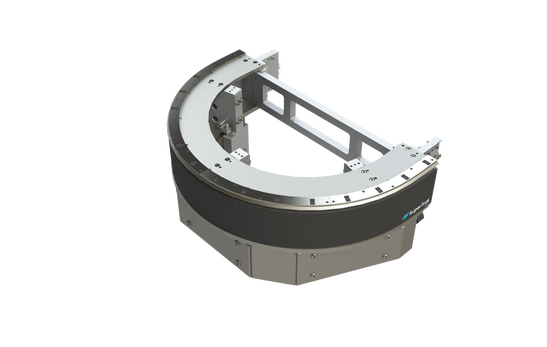 Wide E-Turn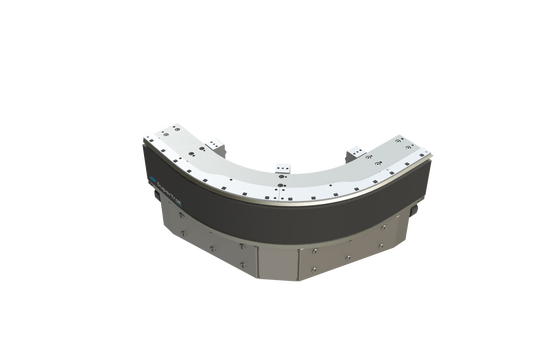 90 Degree Curve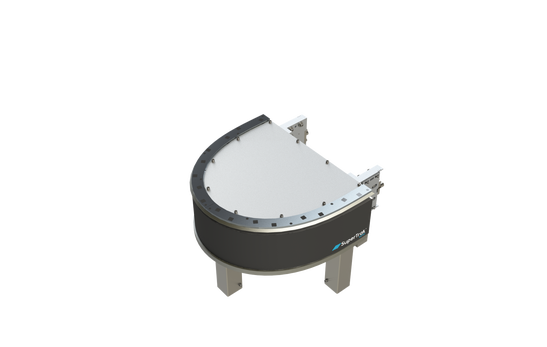 Narrow E-Turn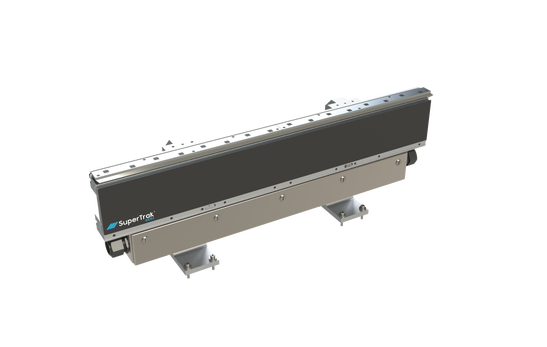 Straight Section
Configuration Options
Our flagship configuration is the SuperTrak GEN3™ – 800mm. Popular amongst engineers because of the amount of space available on the inside of the track to mount tooling.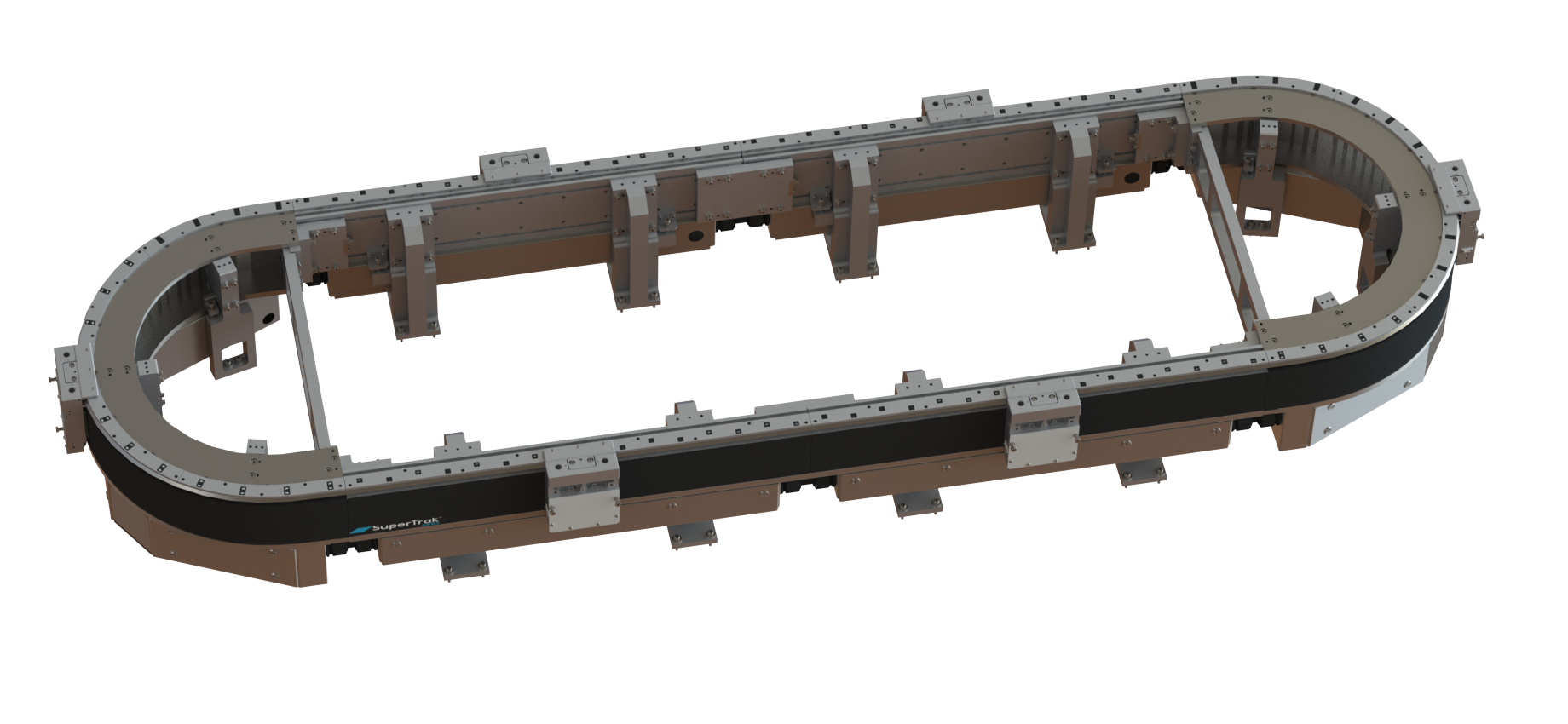 SuperTrak GEN3 – 800mm Configuration
The SuperTrak GEN3™ – 500mm configuration offers a slightly narrower base which is ideal for applications where tooling must be mounted on the outside of the foundation.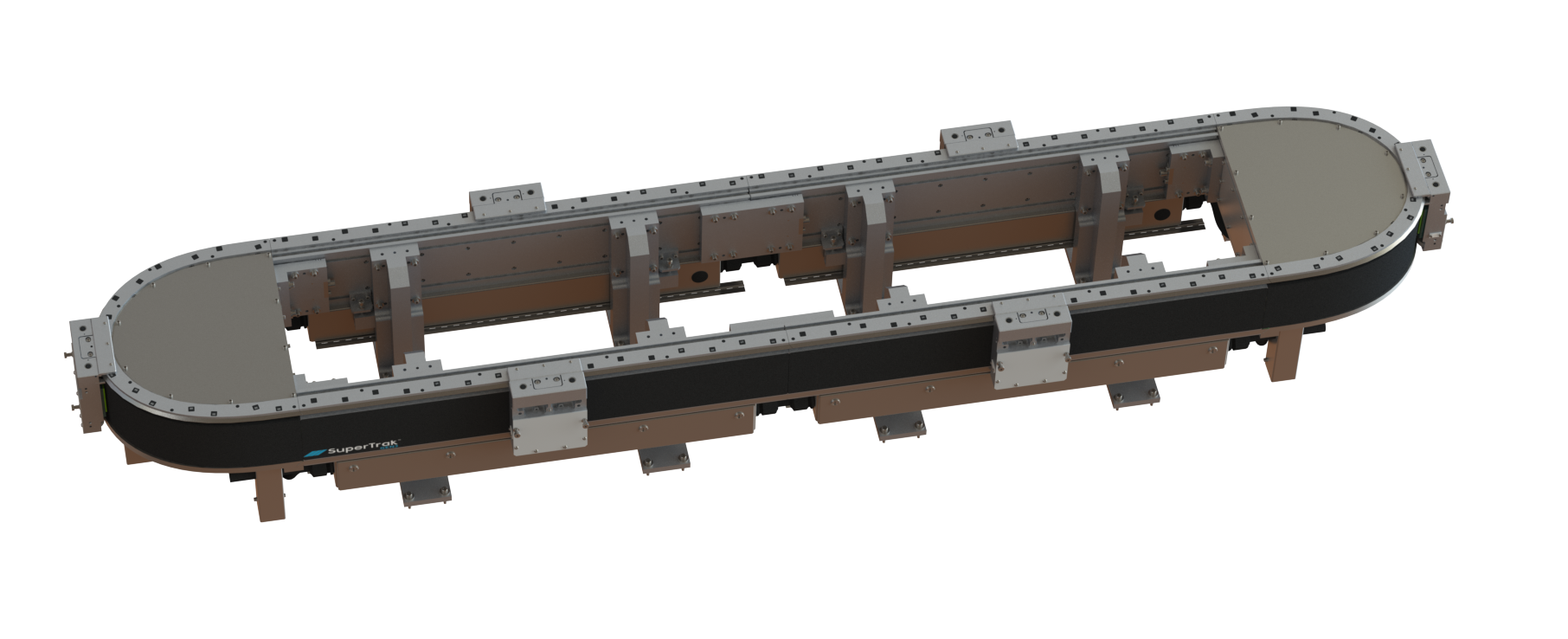 SuperTrak GEN3 – 500mm configuration
Finally, the newest offering is the SuperTrak GEN3™ -1200mm configuration. Here four 90-degree corners create a squared circle shape, somewhat resembling a dial configuration. While it offers a similar space-saving value as a dial, it adds a lot more functionality because of the track's integrated smart functionality. The new 90-degree also allows manufacturers the option to mount even more tooling on the inside to further reduce footprint. We'll look at this in a bit more detail shortly.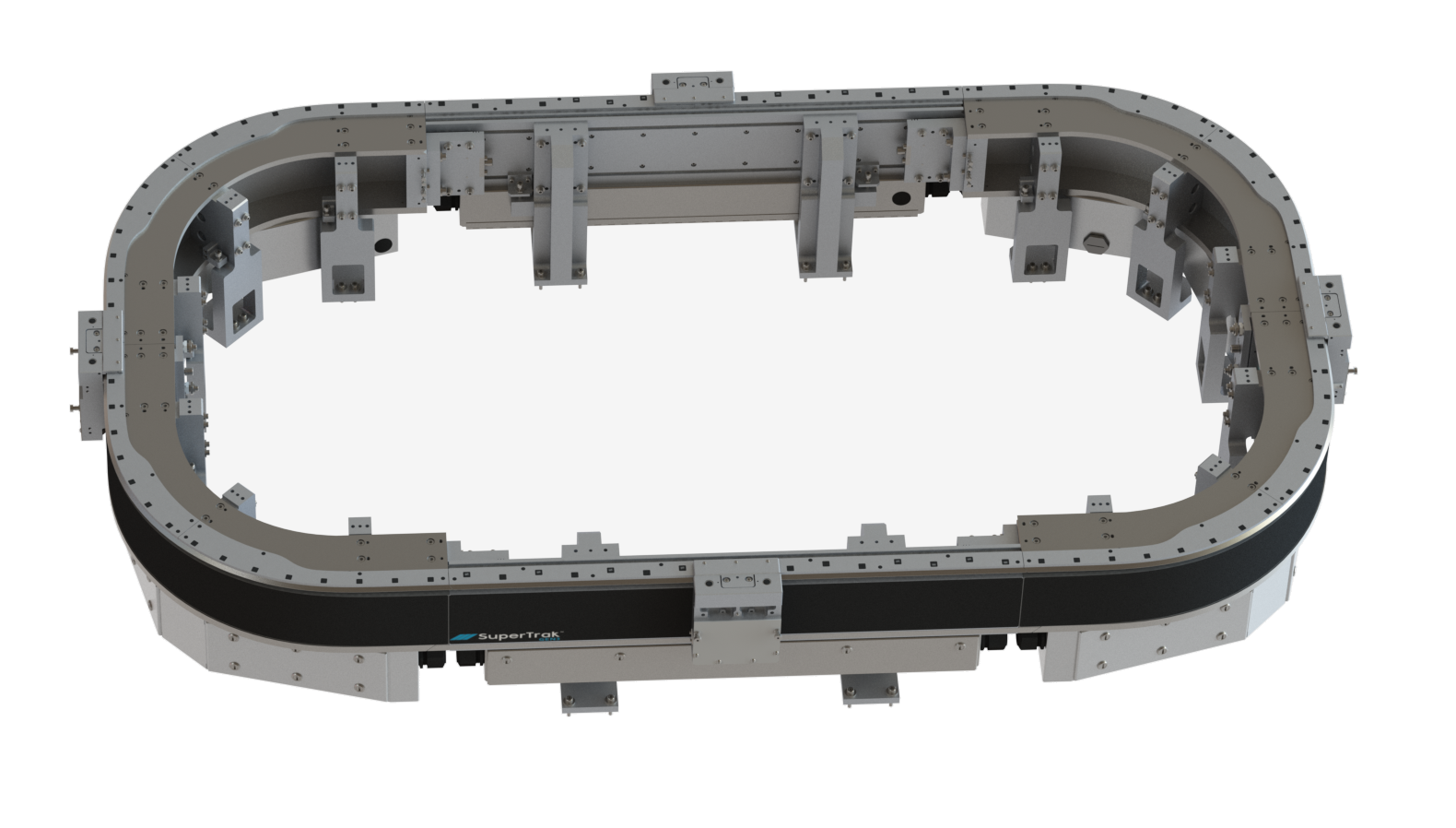 SuperTrak GEN3 -1200mm Configuration
Scaling should be easy
All SuperTrak platforms are modular in nature and can be reconfigured as needed by adding or removing track sections.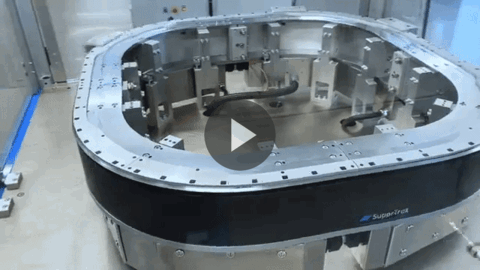 Manufacturers can now easily reconfigure the functionality or redeploy the system as the business grows or as product lifecycles change.
Engineers and designers can also quickly scale system programming for additional stations and processes utilizing target routing with SuperTrak's TrakMaster™ software.
Since there has been so much talk around the newly launched 90-degree configuration, I thought I'd spend a bit of time looking at this in more detail.
The 90 enables more configuration options to fit your automation into the space available. Do you need it to be as small as possible? Or do you need to expand the system to fit larger tooling on the inside? This new configuration can accommodate most scenarios.
A good example of this was with a cleanroom where the manufacturer was working with a very tight and specific footprint. Designers tried a variety of configuration options to accommodate the space but both the 800mm and 500mm configurations were too long when tooling was added. With the release of the 90, they were able to fit the system into the needed space and still achieve performance requirements.
We've seen quite a few comparisons between the 90 and traditional servo or indexing dials.
One of the key differentiators between traditional conveyance options, like the dial, and SuperTrak are the integrated features that make the track a smart technology. Traditional dials are synchronous, meaning the slowest process determines the overall cycle time, but with SuperTrak, independent shuttle control enables asynchronous operation so if you have inconsistent cycle times, you no longer are limited by the slowest stations. This allows for more flexibility in manufacturing processes.
SuperTrak Product Manager, Ben Hope, examines in more detail the differences between dials and the new 90-degree in his blog, Is the Dial Dead?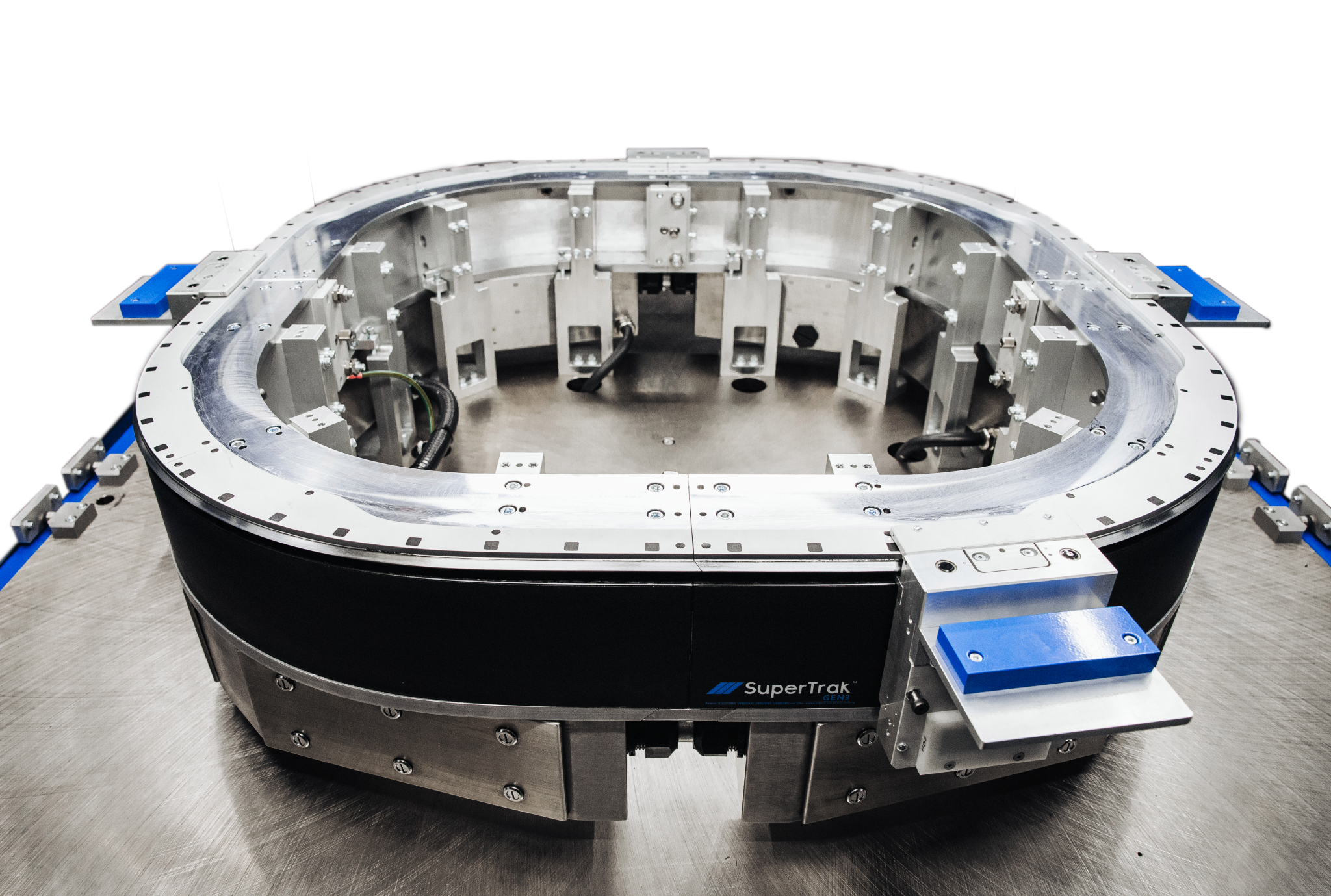 SuperTrak GEN3-90-degree configuration
SuperTrak also allows engineers to easily set destination targets, change velocities and accelerations, creating a means to move between 1-up and multi-up shuttle processing that can optimize system cycle times and output.
Other integrated features include:
Collision avoidance – shuttles will automatically avoid contact. No additional programming is necessary.
Target routing – set and release shuttles to destinations around the track without any additional management in the PLC.
Pre-stops – set pre-stops where extra space for tooling or process is required.
Define regions for specific motion dynamics – shuttles will move through the region with a specified velocity, acceleration, or jerk.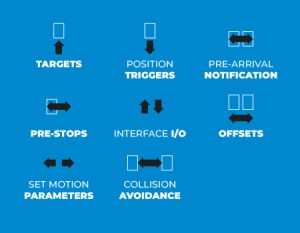 All of these provide the value of achieving maximum functionality in the minimum amount of space.
Here's why your choice in conveyance shouldn't be an afterthought
Selecting the right automation technology is essential for the success of our project and business. Smart Conveyance technology with SuperTrak may be a good option for you. But how can you be sure? Does your conveyance really play a significant role in your overall automation system?
A common challenge encountered by automation design teams is achieving process functionality and performance requirement within the available footprint. A foundation defines what can then be built on top of it. We show our customers why conveyance should be the starting point of conceptualization and design by highlighting its motion capability to better understand what needs to be built on top of it. It is the foundation of automation. From there, you can really start to think of conveyance as more than a material mover, but a key piece of technology that can optimize and simplify process design.
ATS provides market-leading automation performance to many of the world's largest manufacturers. A key element driving this capability is the utilization of conveyance as the starting point because it connects everything and touches every part of the process.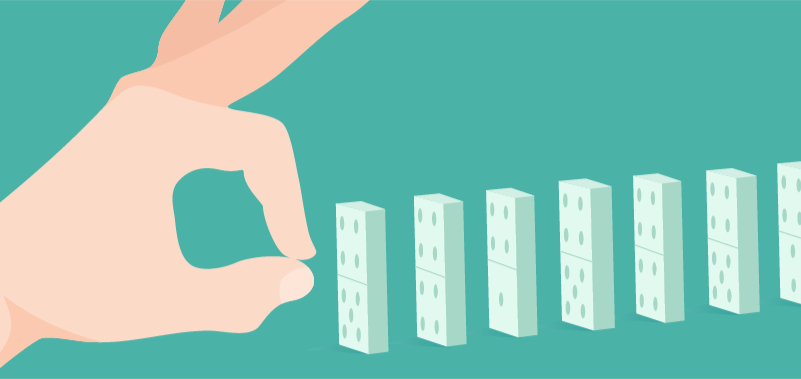 Conveyance is one of many dominoes, but often should be the first. 
Choosing the Right Technology
Choosing the right technology is easier said than done. Once you understand the impact and value of conveyance, your decisions start to become clear.
In our webinar, Automating Under Uncertainty, we advise customers to follow 3 good practices when it comes to selecting their automation technology.
Good Practice #1 – Begin with the end in mind.
Even during the development phase, we need to know the ultimate impact of technology decisions. This may sound easy, but the reality is it isn't. When working under tight deadlines, we tend to only think about the next step. But knowing the endgame is crucial to identifying the most direct and efficient way to get there. As an example, will you be manufacturing in a cleanroom? What will be done manually vs automation? Although difficult, always keep the ultimate end goal in mind and this will help you take the right steps to get there.
Good Practice #2 – Choose the right foundation.
Much like building a house, selecting the right foundation for your automation is the most important selection you can make. You would never attempt to build a roof before you have your solid foundation in place. When building out your automation process, one of the biggest mistakes we see is when your conveyance or foundation is an afterthought. Like I mentioned before, your conveyance impacts literally every aspect of your process, if you choose the wrong one, or fail to recognize its importance, process inefficiency and unnecessary complexity may be the result. When you keep the end in mind and select a conveyance foundation that supports this, you will be left will a process that is able to adapt and support ever-changing needs.
Good Practice #3 – Don't reinvent the wheel, just realign it.
Never re-invent something that already exists. It takes capacity away from developing IP, and it adds unnecessary risk. Making a tweak, redeploying, or reprogramming existing technology can often help you get to where you're going faster. Especially if you're using proven technology that can be implemented with less risk.
Achieving High Performance within a Defined Footprint Using Smart Conveyance
The SuperTrak CONVEYANCE™ platform is leading the way with its integrated functionality that we spoke of earlier. SuperTrak is one of the world-leaders in smart conveyance with hundreds of deployments at many fortune 500 companies across the globe.
Smart Conveyance enables numerous efficiencies in machine development to get to production faster. From simplifying tooling requirements to quick system assemblies, to intuitive and easy integration. Smart Conveyance provides significant value to machine builders and end-users alike because material costs and engineering hours can be reduced.
This offers a solution that balances the overall cost of automation with market demands by allowing for reconfigurability and scalability. Check out the on-demand webinar to learn more about how smart conveyance can Fast Trak your machine development.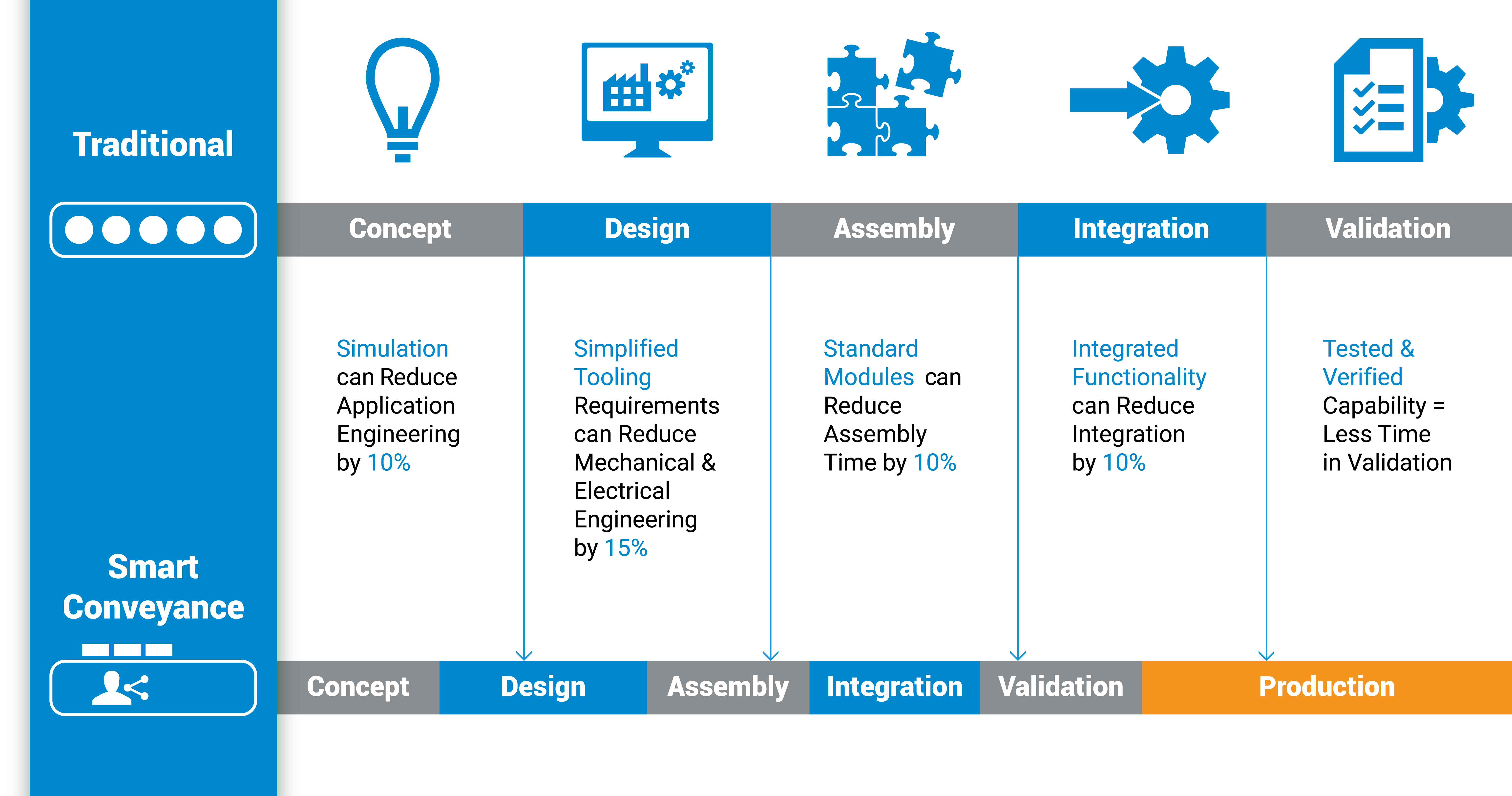 Smart Conveyance provides value by incorporating a number of features into one platform, allowing a higher level of performance and productivity than that of traditional conveyance. Generally, it is powered by linear motor technology using a moving magnet shuttle system with encoders. This means that the system is a servo: it's fast, precise, and you have independent control of all the shuttles. Plus its flexibility enables process scalability and reconfiguration. You can see more examples of how traditional conveyance compares to smart conveyance here: What is Smart Conveyance?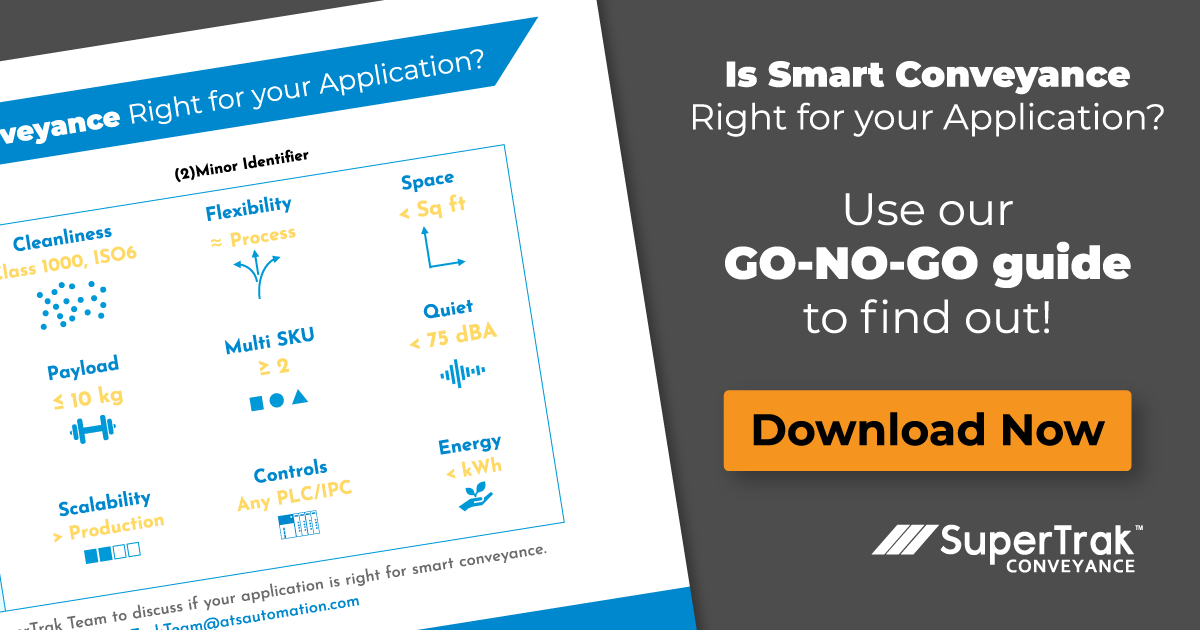 Not all applications are suited to Smart Conveyance but typically if you have cycle times that are less than 8s, more than 6 process steps, and a repeatability requirement of less than 100 microns, the value created by SuperTrak's performance really exceeds the cost of implementation.
Discuss the configuration option that is best suited to your application.