Case Study: Reducing Floorspace by 44%
How one manufacturing company gained back floor space and increased throughput.
You know that in today's manufacturing space you need to be flexible enough to adapt quickly. You need to efficiently adapt to changing market demands. Likely, you've already tried to figure out how to effectively expand your production lines as demand has increased and faced some challenges with maximizing revenue per square foot.
We worked with one customer with a challenge just like this – a leading manufacturer of medical devices in North America. An influx in product demand prompted the organization to evaluate their current processes. They wanted to explore how they could increase their production without increasing their physical space. This company found that their traditional manufacturing cells could no longer accommodate their production needs. However, the challenge the customer faced was finding the necessary space to add processes that maintain their line rates of 60 PPM.
So, this customer made the decision to invest in new automation. They needed something that was flexible enough to accommodate changing process demands and would yield a better ROI than their current system.
Working with the SuperTrak™ Conveyance team, we built a platform that could act as the foundation of their processes. Together we created a process that not only met their production requirements but also eliminated several redundant pieces of equipment, increasing production while reducing floor space.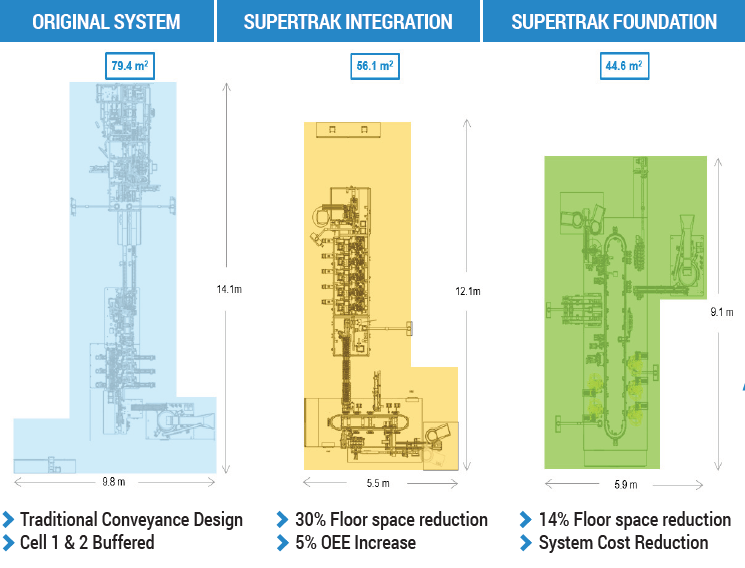 Major Takeaways:
Overall floor space was reduced by 44% when the SuperTrak™ platform was used as the foundation
OEE increased by 5%
Download
Are you facing a similar challenge? Download the full case study to learn more about how we solved this customer's challenge.