Acting as the foundation of your automation processes, smart technologies such as SuperTrak GEN3™, enable high-performance with less risk. TrakMaster™ software is the user interface that provides access to SuperTrak's powerful features such as:
Process Simulation
Integrated Functionality
Performance Optimization
Diagnostic Insight
TrakMaster™ software enables smart conveyance and world-leading automation.
Unlike other conveyance platforms, TrakMaster™ was designed and built with the intent to reduce engineering and integration hours offering manufacturers a faster path to production with less risk.
TrakMaster™ software is a complete solution that offers:
Enhanced Simulations
High-Performance Configurations
Detailed Diagnostic Tools
The easy to use software empowers a PLC interface to control SuperTrak's high-performance capability with less engineering and therefore less risk.
SIMULATION
TrakMaster™ enables better designs.
Simulation is the connection between conceptualization and design. TrakMaster's™ simulations provide ways to optimize processes, evaluate performance requirements, and minimize expected energy consumption.
The simulation software in TrakMaster™ features:
Intuitive graphical interface
Performance optimization tools
Power and thermal modeling
CONFIGURATION
TrakMaster™ enables high performance.

Access and configure the SuperTrak CONVEYANCE™ platform's integrated functionality to remove risk and engineering time by utilizing tested and proven capability.
Configure in TrakMaster: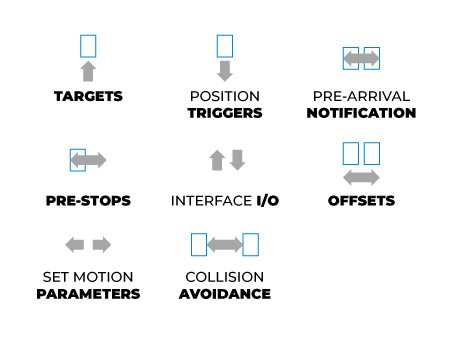 DIAGNOSTICS
TrakMaster™  enables better machine interaction.

Diagnostic Tools provide valuable insight for fault handling and recovery, system status, and highlights station metrics (cycle time, shuttle transfer, etc.) for optimization and improved OEE.
TrakMaster™ diagnostics include:
Fault description and troubleshooting guide
Power and thermal monitoring
Oscilloscope for signal tracking
CONTROL INTERFACE
TrakMaster™ enables high performance with simple control.

PLC function blocks provide an intuitive interface to control shuttle motion, access data, and set parameters. This removes significant time from programming and integration and allows you to get up and running quickly.
TrakMaster™ software provides access to SuperTrak CONVEYANCE'S™ control interface:
Intuitive function blocks
Release and forget shuttle routing
Set motion parameters
Fault handling
Product Gallery
[rl_gallery id="1958″]