Welcome to Around the Trak
Welcome to the very first installment of Around the Trak. I have been debating starting this blog for quite some time and finally took the leap!
I am fortunate that during my engineering and automation career, the roles that I've had have allowed me to travel the world, working with some truly incredible and forward-thinking people. It is the experiences and conversations that I've had during this time that form the basis of the Around the Trak blog series.
One thing that is evident to not only me but to most people in the industrial automation space, is that the automation world is changing and our work with SuperTrak CONVEYANCE™ puts us at the foundation of that change.
I want to use this forum to share thoughts about what we see, common patterns that we discuss, and provide guidance where we feel we can. If you are a leader or a change driver at a company that aspires to use technology as a differentiator for your business, we truly hope that Around the Trak helps.
An emerging strategic pillar: Partnerships
The rate of change is ever-increasing due to our progressively deep integration of technology. We often look closely at how we work when we discuss this trend (ie. smartphones), however, technology has also greatly impacted what we work on as well.
Companies are starting to narrow in on the unique value they offer to the market, their core competency, as growth initiatives for the 2020's take shape. Leaders have a much better understanding that automation is a necessity in many processes today but to successfully unlock the true potential in the investment, many system components require successful integration across the business.
Technology partnerships and "frictionless business" have been highlighted by Forbes and have been a fixture on Accenture's annual technology trend reports since 2018. Accenture highlights survey results where 36% of businesses report working with double or more partners than they were two years ago.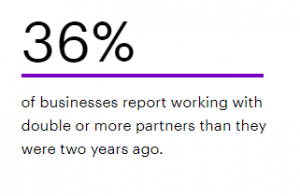 The most effective deployment of new processes and technology we've observed is the result of a broad team of experts aligned to a clear, central goal. The challenge we all face is that the team of experts is unlikely to reside within one company in today's environment of interconnected systems and deep technology integration. Increasing the difficulty for us all is that as the technology rate of change increases, system complexity continues to increase as well.
The value of strategic partnerships
The Integrated nature of these challenges is leading us to be more comfortable with the concept of strategic technology partnerships because we are all working toward a larger goal but focused on the area where we provide expertise and value.
Leaders are understanding that the challenge is too tall to take on alone. To drive change at the rate that is needed, we need to be looking to form the right team for the central goal. This is a requirement of many of today's larger strategic opportunities and the closer our teams work the higher the rate of success.
I have observed new business models forming (example = "as a service" in unique areas) as well as areas where former competitors have found ways to work closely at delivering higher customer value. This is a good thing for our industry as ecosystems of like-minded companies and individuals will lead the market.
A recent, top-of-mind example, is the partnership that ATS formed with. This is a partnership where two companies' core competencies serve different phases of the automation cycle. Vention offers a platform for ideation and quick turnaround equipment, whereas ATS offers turnkey, factory-wide assembly automation solutions. They began working together to improve the customer experience for both companies.

I believe the larger trend that drives our focus toward partnerships is the labour shortage that affects so many industries, not just manufacturing and I often cite a recent study published by Deloitte, the skills gap may leave 2.4 million positions unfilled between 2018 and 2028.
As leaders and drivers of change, we need to be laser-focused on how to achieve the greatest impact with the team that we have, which emphasizes a definition of our core competency. Those that define their competitive competencies well are far more open to working with partners on a deeper level because of a strong appreciation for each other's strengths and market. I believe the Miller Heiman Group describes this well in their customer relationship hierarchy seen below. The image highlights that deeper relationships (levels 4 & 5) make important contributions to each other's mutual success.
This partnership trend is certainly aided by the fact that we are all working to solve a problem larger than any one company. The common vision is to drive the industry forward with more effective technological solutions in order to minimize the labor shortage impact on our ability to service the customer. This challenge is leading to a new climate where companies are finding deeper ways to work with each other to solve overall system problems.
The openness to partnerships may be the trend that excites me the most as we look forward. I have a passion for solving problems with new technologies and doing so quickly. Focus is driven when companies have a better understanding of their core competency and focus drives efficiency. Therefore, working closely with partners has the potential to unlock greater rates of change in technology adoption because we can all focus on what we're best at and scale it through standard practices.
Partnerships can bring challenges, particularly around communication, but I believe this new climate of openness with each other will put these communication issues behind us and integrate technology adoption further into growth strategies moving forward. The potential challenge is vastly outweighed by the upside.
If you've experienced being part of a strategic partnership, share your experience in the comments below and help the conversation going.
I look forward to hearing your feedback as I continue with Around the Trak. Connect with me on LinkedIn – Simon Drexler and let me know what you think!