To remain competitive in today's manufacturing space, you must be flexible enough to quickly and efficiently adapt to changing market demands. This often includes being able to effectively expand or add on to your current production lines as product demand increases. With this in mind, one of the biggest challenges manufactures face is maximizing the revenue per square foot for their production facilities. In other words, how do you do more with the space you currently have.
This was the request of one customer, a leading manufacturer of medical devices in North America. An influx in product demand prompted the organization to evaluate their current processes and explore how they could increase their production. Upon discovering that their traditional manufacturing cells could no longer accommodate production needs, the decision was made to invest in new automation that was flexible enough to accommodate changing process demands and would yield a better ROI than their current system. The challenge the customer faced was finding the necessary space to add processes which could maintain their line rates of 60 PPM.
By utilizing the SuperTrak™ Conveyance platform as the foundation of their processes, they not only met their production requirements, but were able to eliminate several redundant pieces of equipment during their process steps, effectively increasing production while reducing floor space.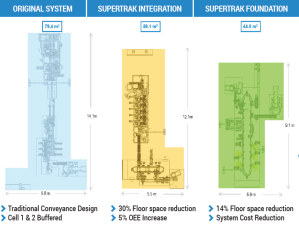 During the initial integration of the SuperTrak platform with the original system, the process design not only reduced redundant stations, but individually controlled shuttles on the track allowed for varied part spacing through the line which increased productivity time at each stations. In addition, the asynchronous capability of the system allowed two cells to be decoupled and increased the OEE of the system by 5% due to a more robust buffering system which improved uptime and overall throughput rates.
As production processes further developed and demand continued to increase, the customer opted to use the SuperTrak platform as the primary foundation for their automation processes. This resulted in a further 14% reduction in system size by eliminating additional redundant equipment and achieved the primary goal of increasing throughput without requiring additional floor space.
To learn more about the benefits the customer experienced with SuperTrak Conveyance download the full case study here. DOWNLOAD NOW.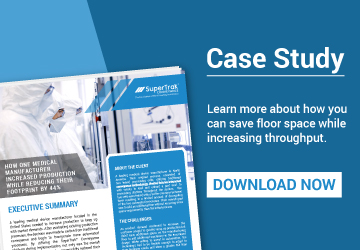 Ready to increase your output and reduce your floor space? Contact the SuperTrak team today!
Supertrakteam@atsautomation.com