Smart conveyance can improve overall equipment effectiveness (OEE) by utilizing speed, precision, and diagnostic insights in order to improve availability, performance, and quality.
The infographic below illustrates how smart conveyance can reduce machine development timelines and increase production. With smart conveyance, improving OEE, by even a few percentage points, can significantly increase product revenue.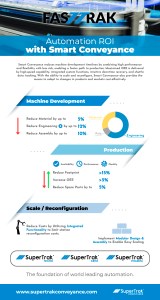 The modular design of SuperTrak CONVEYANCE™ platforms along with their integrated functionality, allows manufacturers to adapt to changes in products and markets with a cost-effective approach in order to scale and reconfigure their operations.
To get a more in-depth understanding of how smart conveyance can improve the ROI of your automation – register for part-two of our FastTrak webinar series: FastTrak Automation ROI with Smart Conveyance.