When a medical device company wanted to test and launch a new product, they knew who they needed to work with …
Industry: Medical Device Manufacturing
Location: United States of America
Challenge: Scaling a new product while going through FDA approval
In this case study, you'll learn:
About the specific challenges they faced
About the process they went through
About the results they achieved
Download the Full Case Study To Learn How They Did It!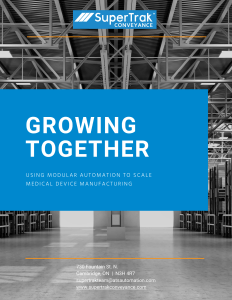 Executive Summary:
During product development, a leading medical device manufacturer partnered with the SuperTrak™ team to implement the GEN3 platform as the foundation of their process.
While the manufacturer sought FDA approvals, they identified that SuperTrak™ could be used during early-stage process development and that the track's modularity would also allow for future growth as market adoption grew.